---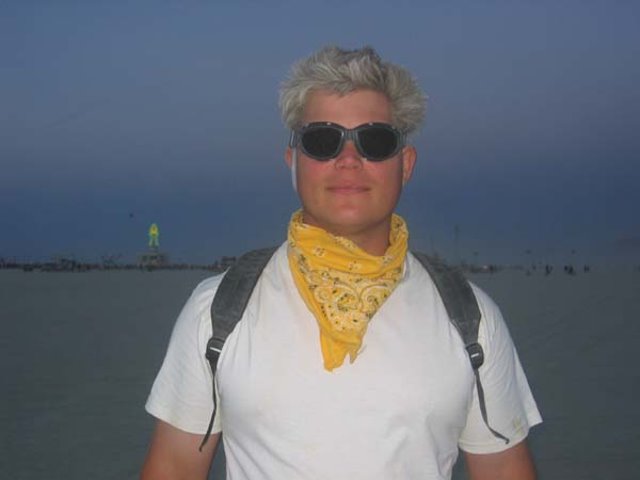 I work at ARM in the Media Products Division.

My experience includes 3D graphics, both interactive and high-quality offline rendering, and Linux/UNIX-like systems as well as Windows. In particular, I have expertise in using OpenGL in applications and middleware, and in writing tests and benchmarks for OpenGL drivers in Windows and XFree86. My resume in PDF format is available for your review.

I played drums in 2012 for Suicide Poodles, a classic rock cover band.

At Burning Man 2013, I camped with the Karma Chickens.
---
Blog
(Only most recent entries listed here, see all the entries)
Windows makes me sad ,Mon Nov 9 19:00:04 2009
Running wine fails with X Error of failed request: XF86VidModeExtensionDisabled ,Tue May 26 17:45:05 2009
GRUB "Error 2" May Mean Incompatible stage1.5, stage2, and ext2 ,Wed Mar 18 23:10:03 2009
Before you report you've fixed it, TRY IT ,Tue Mar 17 18:00:14 2009
Addiction ,Fri Feb 6 13:00:05 2009
Simple Serial Port Terminal ,Thu Feb 5 03:25:02 2009
omg! ,Wed Feb 4 19:40:05 2009
Shadow Image : Warning ,Wed Feb 4 19:25:05 2009
SGI Gourmet Bakery ,Wed Feb 4 18:40:07 2009


Tag List

technology (9 entries)
computers (8 entries)
picture (6 entries)
art (3 entries)
signs (2 entries)
obsolete (2 entries)
linux (2 entries)
tools (2 entries)
funny (2 entries)

See All Brad's Blog Entries
Other Personal Writing
Engineering
Out and About
In 2005, with my friends and colleagues David Shreiner and Alan Commike, I filed patent 7,460,126, describing a multithreaded, multipipe media player. The implementation was capable of playing a uncompressed "quad HD" movie (3840 by 2160 pixels) directly from a RAID array of fiber channel SCSI disks. (The target was the Sony SXRD 4K digital projector, which had four inputs, one for each quadrant.) It was a pretty large chunk of code using OpenGL, OpenML, pthreads, and C++. I was kind of proud of the code; it was my first large-scale threaded application. It ran under IRIX 6 and the SGI version of Linux that ran on Itanium. It was, however, not user-friendly and required a pair of full-height racks of equipment. If I remember correctly, Sony declined to work with us after we provided a single demonstration of the technology streaming a short film. A few years later, Sony demonstrated the same projector with a "media block" which was essentially a PC streaming JPEG2000 compressed images to the projector.
Around 1997, I was peripherally involved in patent 6,933,941, describing a scene graph called Cosmo3D. I think I was just basically the last person remaining at SGI who had worked on the thing at the time. Cosmo3D had features from IRIS Performer promoting performance and features from Open Inventor promoting ease-of-use and editing. (Says it was filed in 2001? What was the delay? I had quit SGI by 1999.) Cosmo3D was quite slick but never saw any real adoption by the industry or even promotion by SGI. (Not to be confused with Cosmo Worlds, a VRML viewer.)
I appeared briefly in the movie "Revolution OS" playing Richard Stallman's "Open Software Song" (ugh) with "The Gnu Stallmans". I have an entry on IMDB, the Internet Movie Database .
Back in college, my friend Lawrence and I competed with each other to write the shortest program that would ray-trace shaded spheres and provide an ASCII art image of the result. He made a web page describing our competition. The programs are very ugly and illustrate some things you may not know can be done in the C programming language.
I organized and moderated a panel called "When Will Ray-Tracing Replace Rasterization?" at SIGGRAPH 2002 Interactive ray-tracing remains a hobby of mine, and it continues to make inroads on rasterization with the inevitability of the planets moving through the sky.
I joined Dave Shreiner and our friends in courses at SIGGRAPH 2002, 2003, and 2004 on "Performance OpenGL".
Neal Tringham fixed my old Meshifier triangle stripping code and used it to create an online optimization tool. Models in Ultimate Golf by Ubi Soft were processed with that tool. (I recommend using my ACTC package, mentioned above.)
I presented part of and wrote part of the course notes for the SIGGRAPH '97, '98, '99, and '00 full day course called Advanced Graphics Programming Techniques with OpenGL, and also the SIGGRAPH '99 Lighting and Shading Techniques for Interactive Applications course.
---
You can send mail to grantham@plunk.org.
This page was last changed on Tue Oct 8 20:26:31 PDT 2013